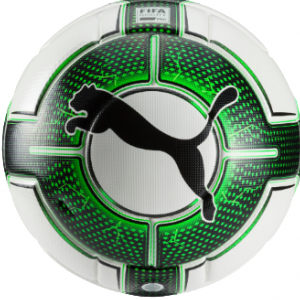 Puma evoPOWER Vigor 1.3 ball
The evoPOWER 1.3 Statement is a World class competition ball, which will be used by national clubs along with premier legues around the world. The High Frequency Moulded construction provides excellent form retention; durability and a decrease in water uptake. The unique 22 panel configuration reduces the amount of seam's and creates larger panels for a surer touch and softer feel. The unique twin outer PU surfaces comprises PUMA developed stress free dimple technology for improved aerodynamics during flight, and two large textured PU ' dead ball' target areas for added accuracy at these critical moments,but also during game play.The newly developed POE foam beneath the surface provides a soft touch , improved consistency of rebound and explosive power. A high quality rubber bladder in combination with the PUMA AIR LOCK (PAL) valve and Perimeter Balance Technology (PBT) further enhance's the balls superb flight
characteristics. The ball is FIFA Quality Pro , which guarantees that the ball is of the highest standards.