If you've caught the running bug, you'll appreciate the need for a solid pair of joggers. Whether you're training for a marathon, planning a triathlon, eyeing off the City To Surf, or just aiming for a couple of K's on the weekend it can be really hard to work out what pair of shoes is right for you.
Flickr Image Courtesy Brian Giesen
The best aspect of running? It doesn't require much kit. Just comfortable gear and a good pair of shoes.
Wearing the right running shoe will also decrease your risk of injury and keep you running for longer. A poorly fitted shoe can lead to blisters, shin splints, stress fractures and soft tissue injuries. You can even develop problems in other areas of your legs and body if you're shoes are making you run in an unnatural style.
We've stocked up on the latest shoes on the market. But before you start trying to pick out your new pair, we'll help you find out what you need in a running shoe. Sometimes it's not just about the shoes, you have to work in other factors (like your cat's opinion…)
Flickr Image Courtesy Anders Abrahamsson
We all know running is a high-impact sport for feet, ankles and knees, so we need to look for a shoe which has sufficient shock-absorption and support for the type of training you have planned. We also need to make sure you have a shoe that suits your running style. A good starting point to check your gait is to inspect the soles of your old running shoes to see where the sole is the most worn.
You need to feel comfortable in your shoes, and while appearances shouldn't rule a shoe's suitability, we all want to look the part in our new set of runners. This season the brands that matter in running shoes have released a good range of styles from understated neutrals to multi-coloured glam.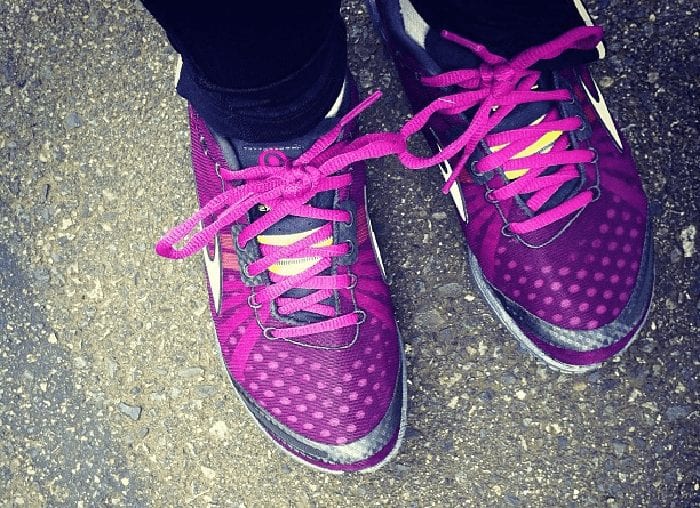 Flickr Image Courtesy Kim Love
Right, before you use your feet, you'll have to put your head into it and learn some of the tech running shoe lingo before we take you through the pro's and cons of each shoe:
Foot physiology
A foot consists of the heel at the back of the foot, the arch in the middle, the lateral forefoot and media forefoot (front of your foot), and then your toes.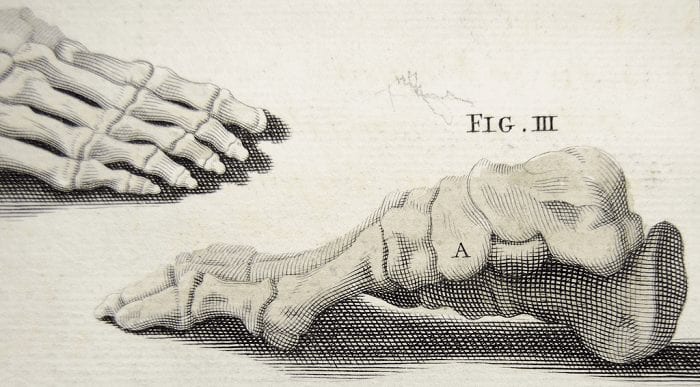 Flickr Image Courtesy University of Liverpool
The natural 'walking gait foot progression' is heel – lateral forefoot – medial forefoot, but this progression changes when you are running to depending on your individual style.
Pronation is how a person's foot rolls laterally between the time when the foot hits the ground and the toe leaves on the next step.
Underpronation is when the foot rolls outwards
Overpronation is when the foot rolls inwards
Neutral Pattern is when little rolling occurs.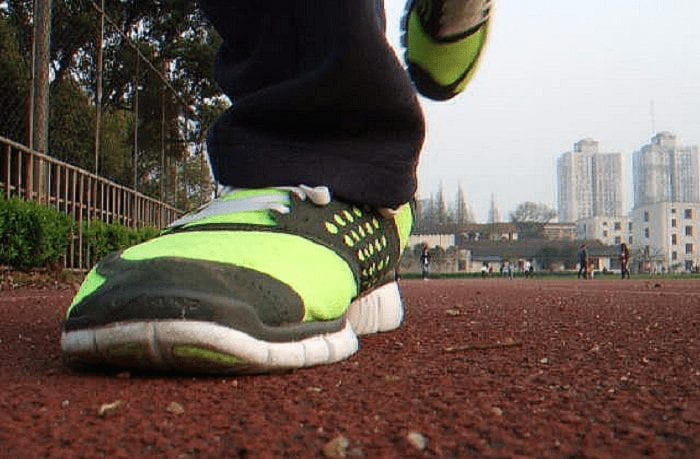 Flickr Image Courtesy Yao Sn
Types of feet
Feet are categorised into three types:
Flat feet are characterised by the lack of arch, being completely flat from the toes to the heel, so look for shoes which include the word 'stability' in their description. Some flat footed people need to wear orthotics, so look for a shoe which will accommodate this.
Arched feet are characterised by a high and definite arch on the foot, so look for flexible shoes which absorb shock and include the words 'flexible' or 'cushioned' in the description.
Neutral or Normal feet have an arch, but usually it's not more than 3 cm. People with neutral feet can choose from a wide variety of shoes, including ones made for those with slightly flat-footed or high-arched feet, but don't buy shoes with a lot of stability or motion control.
Flickr Image Courtesy OUC Charley
Running Shoe Nerd Speak 
AHAR is ASICS High Abrasion Resistant rubber on the outersole, and it helps cut down on excessive wear.
Quite simply, the shoe is more durable and will last longer.
Asymmetrical Lacing aligns the medial and lateral quarter-panels evenly on either side of the shoe
It reduces irritation and provides increased comfort and fit

 
Bunion Window is a soft synthetic area on the medial forefoot
This reduces the risk of irritation

 
C-CAP® is a lightweight midsole
It adds cushion without sacrificing flexibility

 
Clutch Collar is a combination of dual layered heel parts on the upper connecting to the shoe laces
It improves overall fit of the shoe

 
DuoMax is a dual-density midsole system
It is positioned to reduce weight and enhance support and stability

 
EVA is a blown microcellular midsole material, which is lighter and more flexible than rubber
Increases cushioning and step-in comfort

 
Midsole is the layer in between the outsole (bottom of the shoe) and the insole (inside) of the shoe
This layer gives increased shock absorption

 
N-ERGY® is unique cushioning which compresses on impact in the heel
Helps with pronation control 
PHF is a Personal Heel Fit which moulds and customises itself to the individual heel shape of each wearer
This gives greater comfort and support to the wearer

 
PLUS3 is an additional 3mm of midsole height at heel on women's models
Helps relieve the strain on the Achilles tendon and improves comfort

 
Rearfoot & Forefoot GEL Cushioning diminishes shock during impact and toe-off phases
Allows movement in multiple planes as the foot transitions through the gait cycle

 
Removable Sockliner is an EVA or SpEVA sockliner moulded to the shape of the foot
It can be removed to accommodate a medical orthotic

 
ROLLBAR® is a lightweight, flat moulded piece of graphite material constructed in the shoes to prevent rear foot movement
For moderate to severe overpronators 
Solyte Midsole is midsole material which is lighter than ASICS standard EVA and SpEVA
It improves cushioning & durability

 
SoftTop DuoMax is a thin, softer layer that sits on top of the main stability component in midsole.
Gives increased comfort for the wearer

 
Trusstic is a moulded compound under the midfoot area to give a controlled and contoured midsole.
It improves arch support and torsion stability
The Shoe Profiles 
Now the hard part is over. We'll take you through the main aspects of each shoe and explain who will fit into it.
New Balance 857
New Balance is always pushing the bar when it comes to technology, and this shoe features some of its best. It has evolved from the 850 series and has new stabilising features as well as additional shock absorption and liner for extra comfort. This is a great flexible, cross-training shoe and its leather upper makes it more durable and gives its increased breathability.
Ideal for those who over-pronate, or have a low arch or flat feet
Non-marking rubber outsole won't mark floors
Forefoot Flex Grooves allow extreme flexibility
Premium leather upper for comfort, durability, and breathability
C-CAP® midsole provides cushioning and support
Full EVA strobel board for all-day comfort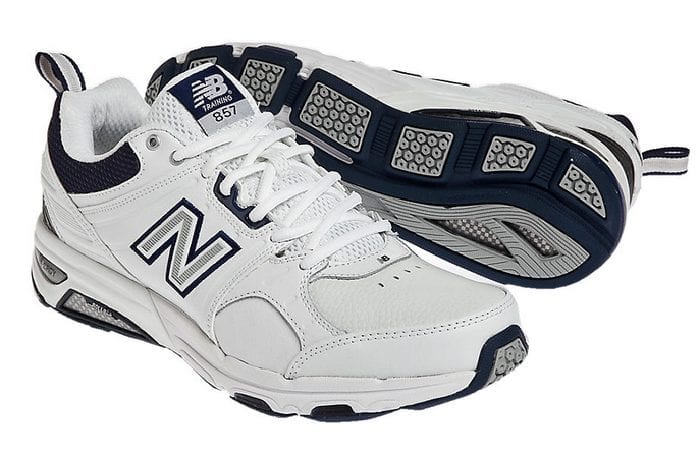 Brooks Ravenna
Brooks has enhanced its 'Runner's World® March 2013 best buy' with a bit more cushion and a bit more flexibility, however it has got a narrow and rigid toebox so wider footed people may prefer to have a bit more room to 'wriggle'. The midfoot capture and a saddle envelops the foot with an adjustable band and there are air mesh, synthetic overlay materials and moisture-managing element linings.
Ideal option for moderate over-pronators, and those with flat and narrow foot
Feet are kept fresh and dry
Good stability, cushioning and flexibility
A very traditional and stable shoe, so great for a high-mileage trainer
Brooks Adrenaline 13
Great craftsmanship combined with latest technology makes this shoe lucky 13. Special attention has been paid to the underfoot and continuing grooves in the forefoot allow the outsole to bend and shape naturally. Plus the foot is held better with the stretch eyelets. The toe is narrow though, so it is a snug fit for wider footed runners. For the eco-conscious runner, the environmentally friendly midsoles have an added component to encourage microbes to break it down once the shoe is in landfill. The sock liner not only offers additional comfort, but it helps decrease the curse of sock slide!
Great for overpronators and runners with flat feet
Environmentally friendly midsoles
Shoe is stable for both sprinters and long distance running
Extra cushioning and comfort
Brooks Addiction 10
These very comfortable and supportive shoes have customised cushioning and a generous width. Many runners have commented that they are able to tighten the laces without constricting the toes. They are the perfect combination of classic and modern design and style.
Good arch support so great for flat footed runners and over pronators
Comfortable with good cushioning,
Breathable
These are great shoes for beginners and recreational running
Asics GT 2000
This iconic shoe in the Asics range is lighter, has increased shock dispersion and better bounce back whilst still maintaining its durability. They have also added a toe protector to this new model to enhance durability in the forefoot. The toe is quite narrow but there is the added bonus of gel pods for midsoles which help reduce stress and shock.
Greater control for the slight to moderate pronator foot type
Not suitable for heavy pronators
Great for runners with long and narrow feet
An excellent jogging shoe for runners with a heavy heel strike
Asics GT 1000
The gel in the heel and forefoot give offer plenty of impact protection for road running and the increased torsional rigidity prevents a bend in the midfoot. Some runners have found them on the heavier side, but they offer a snugger fitting midfoot and are narrower towards the rear.
Suitable for the neutral to mild over-pronating foot type
Great for high-arched feet
A very good shoe at an affordable price
Perfect for those starting out on their running adventure
Asics Gel Nimbus 15
Runners who loved this shoe's predecessor, the Gel Nimbus 14 will not be disappointed with this shoe. It is still very flexible and there is added Gel in the midsole, making it well cushioned. It has a substantial upper which makes it feel very plush but some runners feel this has added to the weight. Comfort has also been enhanced with a new stretch mesh which gives an ultimate fit.
Suitable for those with neutral pattern
A great all rounder
Very comfortable
Asics Gel Kayano 20
If you're after an adaptive fit, this shoe is perfect as it has stretchy overlays around the midfoot and also the mesh over the toebox offers more stretch than previous models. There is also a new lacing system which evens tension across the foot. The Personal Heel Fit moulds and customises itself to the individual heel shape of each wearer which with the deeply padded tongue, gives increased comfort. While the soft feel underfoot gives plenty of cushioning, the midsole still remains responsive. Another feature is the ComforDry sockliner which not only provides cushioning performance, but has anti-microbial properties giving a cooler, drier and healthier environment for the foot.
Very comfortable
Great for moderate to overpronators
Healthier foot environment
Asics Gel Fuji Trabuco
This is by far the most robust in the Asics Fuji line, with plastic stabilisers running over the uppers to hold the foot and a plastic heel cup. It is lighter and more responsive than previous models, but it doesn't lose any of the comfort, with memory foam collar in the heel. Other additions include a rock protection plate and a trail specific outsole give protection and traction on the most challenging of surfaces.
Perfect for trail runners on serious terrain
Gore-Tex upper gives protection for extreme weather conditions
Very durable
New research and technologies are bringing a new dimension to running shoes, decreasing the risk of injury so you can keep running for longer. However, even with these advancements, you'll still need to wear your new shoes a few times so they mould to your foot before you head to the start line – your new shoes won't seem so attractive when you're hobbling over the finish line with blisters.
We've believe our range of running shoes has something for everyone, and it's at a price which is affordable. If you don't see what you're looking for, or if you've got any queries, give Mark, Dean and the team a ring on 02 4969 3263 or fill out the email form and they will be happy to assist you further.
And remember, once you've ordered your quality but cheap running shoes, we'll quickly deliver them to your door for a set price of just $10 shipping Australia wide, and free returns within 2 weeks if the shoes don't fit.