The netball season is upon us, so it's time to ditch your old netball shoes, treat yourself to a new pair, and hit the courts. Asics have surpassed themselves this year, introducing new features and technological advancements to some old favourites to create some great, stylish shoes for players of all levels.
What's new for Asics netburner Netball Shoes This Season? We'll take you through the freshest models and help you work out which pair is best suited to your game. 
Let's start with a glossary which explains basic foot terminology and the technical stuff that Asics use to describe their shoe's features. You'll need to understand this before we fill you in on the latest shoes. So, back to P.E. class for a little bit…
Foot physiology
A foot consists of the heel at the back of the foot, the arch in the middle, the lateral forefoot and media forefoot (front of your foot), and then your toes. The natural walking action is heel, the lateral forefoot (outside), then medial forefoot (inside), but this progression changes when you are running.
To ensure maximum comfort and minimal injury, a shoe should conform to the shape of your foot, not the other way round.
Pronation is how a person's foot rolls laterally between the time when the foot hits the ground and the toe leaves on the next step.
Underpronation is when the foot rolls outwards
Overpronation is when it rolls inwards
A Neutral Pattern is when little rolling occurs.
Matching a shoe's properties with the wearer's style of sport will increase comfort, efficiency, and contribute to decreasing the risk of injury.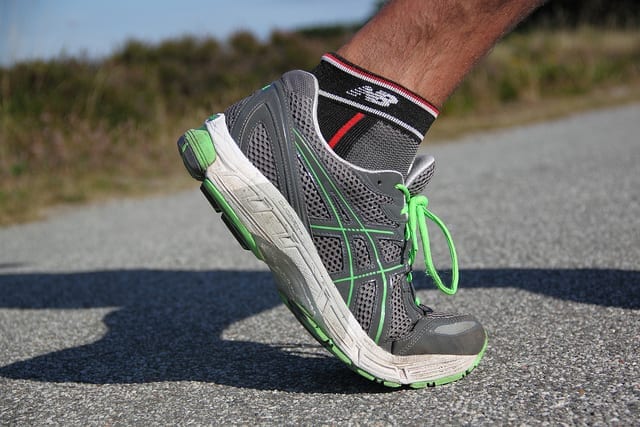 Flickr Image Courtesy Grej Guide
Types of feet
Feet are categorised into three types, flat, arched and neutral foot type.
Flat feet are characterised by the lack of arch, being completely flat from the toes to the heel, so look for shoes which include the word 'stability' in their description. Some flat footed people need to wear orthotics, so look for a shoe which will accommodate this.
Arched feet are characterised by a high and definite arch on the foot, so look for flexible shoes which absorb shock and include the words 'flexible' or 'cushioned' in the description.
Neutral or Normal feet have an arch, but usually it's not more than 3 cm. People with neutral feet can choose from a wide variety of shoes, including ones made for those with slightly flat-footed or high-arched feet, but don't buy shoes with a lot of stability or motion control.
Technical Info
AHAR is ASICS High Abrasion Resistant rubber on the outersole, and it helps cut down on excessive wear.
Quite simply, the shoe is more durable and will last longer.
Asymmetrical Lacing aligns the medial and lateral quarter-panels evenly on either side of the shoe. It reduces irritation and provides increased comfort and fit (AAC: A L Design)
Bunion Window is a soft synthetic area on the medial forefoot.
This reduces the risk of irritation
Clutch Collar is a combination of dual layered heel parts on the upper connecting to the shoe laces.
It improves the overall fit of the shoe.
DuoMax is a dual-density midsole system.
It is positioned to reduce weight and enhance support and stability.
Midsole is the layer in between the outsole (bottom of the shoe) and the insole (inside) of the shoe.
This layer gives increased shock absorption.
PHF is a Personal Heel Fit which moulds and customises itself to the individual heel shape of each wearer.
This gives greater comfort and support to the wearer.
PLUS3 is an additional 3mm of midsole height at heel on women's models helps.
Helps relieve the strain on the Achilles tendon and improves comfort.
Rearfoot & Forefoot GEL Cushioning diminishes shock during impact and toe-off phases
Allows movement in multiple planes as the foot transitions through the gait cycle.
Removable Sockliner is an EVA or SpEVA sockliner moulded to the shape of the foot.
It can be removed to accommodate a medical orthotic.
Solyte Midsole is midsole material which is lighter than ASICS standard EVA and SpEVA
It improves cushioning & durability.
SoftTop DuoMax is a thin, softer layer that sits on top of the main stability component in midsole.
Gives increased comfort for the wearer.
Trusstic is a moulded compound under the midfoot area to give a controlled and contoured midsole.
It improves arch support and torsion stability.
Now let's look at the shoes.
This high performance shoe takes your game to a new level. It is the only netball shoe with Plus 3, and it has a new high performance midsole and an improved upper design. Plus there are medially placed Soft Top DuoMax and a wide base net. For a premium player, this is a great priced shoe at just $129 for ladies and $80 for juniors.
Perfect for players that experience high levels of strain on their Achilles tendon
Enhanced comfort with outstanding levels of support
Tough and durable
Ideal for premium players
This is a fast, lightweight, supportive and cushioned netball shoe. It features Asymmetrical Lacing and a Clutch Collar rearfoot fitting system, medially placed DuoMax under the midfoot and a midfoot Trusstic, a Solyte midsole, rearfoot and forefoot GEL units. Plus, the fully wrapped outsole with a stitched toe gives outstanding durability and guards against toe drag wear and tear. Priced at $169, this shoe is top of the range, but worth it for players who really need look after their feet.
Enhanced fit and reduced potential for irritation on the foot
Great support and shock absorption
Ideal for players with high arches
Tough and durable
Designed for the player who wants the look and feel of a running shoe but with the added protection and durability of a netball shoe, the Netburner Professional 10 has been made lower profile and more flexible, particularly in the forefoot. There is a Solyte midsole, GEL units and an internal Trusstic. This is top of the range at $169, but as well as its technical features, there are medial and lateral outsole wrapping and a stitched toe box to ensure durability.
Suited to players with a neutral foot type
Durable
Flexible
This is the most advanced junior netball shoe ASICS has ever created, and for the young premium player, it's definitely worth the extra few dollars. Based on the technology of its adult counterpart, which offers high levels of support, cushion and durability, wearers of this shoe will experience the same performance features and benefits.
Enhanced fit and reduced potential for irritation on the foot
Great support and shock absorption
Ideal for players with high arches
Tough and durable
Available in both junior and adult sizes, this is a highly cushioned shoe with many features, including Asymmetrical Lacing, PHF, a Solyte midsole with Solyte 55 lasting, rearfoot and forefoot GEL units and an integrated Trusstic. There is also a fully wrapped outsole with a stitched toe yields outstanding durability. With all its features, this is a well-priced shoe, with junior and adult sizes available.
Highly cushioned giving greater comfort
Outstanding durability
Ideal for ultra-premium players of all ages
This shoe comes with plenty of performance and stability at a budget price suited to any social player. It carries a fun, colourful design that younger player will love, allowing them to use the shoe as a double for cross training.
Great choice for the social or beginner player
Cost effective
Looks great for the fashion conscious young player
The GEL-Academy is a neutral entry level netball shoe that features rearfoot and forefoot GEL units. It has a hard wearing AHAR outsole and supportive midfoot for easier direction change. Its mid-level price is super affordable, made to suit most pockets while assuring a good level of comfort.
A great, comfortable all-rounder shoe
Hard wearing
Mid-range price
Before you decide on which pair is for you, you might like to check out our guide to finding the perfect fit so you know what you are looking for, and you buy the right netball shoe for your needs.
As new research and technologies become available, this range of netball shoes have something for every level. However, if you don't see what you're looking for, or if you've got any queries, give Mark, Dean and the team a ring on 02 4969 3263 or fill out the email form and they will be happy to assist you further.
And remember, once you've ordered your cheap netball shoes, we'll quickly deliver it to your door for a set price of just $10 shipping Australia wide, and free returns within 2 weeks if the shoes don't fit.
We hope you have a great season!